For those who might be aware, lexus offer a performance improving intake system for the IS250 called the The F-Sport High-Flow Air Intake. This system consists of slightly re-designed lower airbox, a re-usable dry filter, and a polished, clear-coated aluminum tube. It claims that the breathing, is improved. It uses the existing Lexus filter enclosure top, but replaces the bottom half with a specially designed and reshaped intake which produces a deeper, more powerful intake sound that varies with throttle applications and generates a small increase in rear wheel horsepower. Pictured below:
This kit costs around $400 plus shipping. and because of it's value, the import duty and VAT on it will be high.
So I decided to get the Polished Joe Z Direct Air Flow Intake (D-AFI) pipe instead. It is much cheaper at only $125. This pipe replaces the factory plastic tube of the stock intake system, fully utilizing the stock air box. The intake pipe inner surface has a smooth design that claims to give your oem system optimal air flow without any disruptions. It's also claimed that independent DYNO Test results on a stock manual 6 speed IS250 showed gains of 6+ Rwhp Max Power & 5.6+ ft.lbs of Peak Torque.
In order to get the deeper & more powerful intake sound that the F-Sport system provides, I decided to modify my stock lower airbox by making the extra opening that the F-Sport lower airbox has. The main difference between the F-Sport lower airbox and stock lower airbox is that the F-Sport one incorporates an additional opening drawing more air from the headlight area and giving a much better growl
Anyway, I have installed my Joe Z intake and modified my airbox. The installation was a breeze. I've had it installed for just over a week now and I must say I am very impressed. The car seems much more responsive and you do feel the kick. The deeper growl above 3500rpm is awesome. Initially i was thinking of upgrading my exhaust to get a better sound to match the rear IS-F conversion. The problem I faced with most of these exhausts is that the noise level increases at a lower rpm level and I didnt want this.
With this intake and airbox mod, I get a deeper growl when the car is pushed above 3500rpm. I will try and produce a sound clip or video sometime soon and post it.
There are alot of youtube videos comparing the sound. But what I noticed is that most of those videos are comparing the rev sound when the car is in PARK. These sounds are not actually the sound you get when driving. The growl sound is awesome when the car is actually being driven and air is being sucked into the intake.
Here are some pics of the installed intake and airbox mod
Stock Intake Pipe removed:
Lower airbox drilled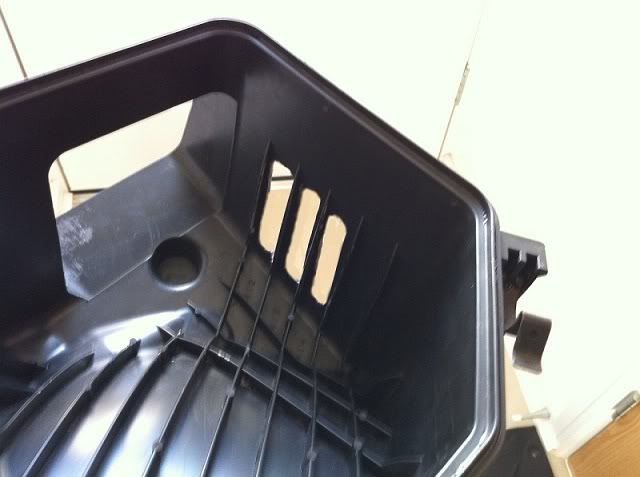 Joe Z intake installed